G Suite Business
Aug 22, 2019
Includes all the features of G Suite, plus unlimited storage per person; Google Vault for email and document search, email retention, and eDiscovery; advanced Drive controls, auditing, and reports.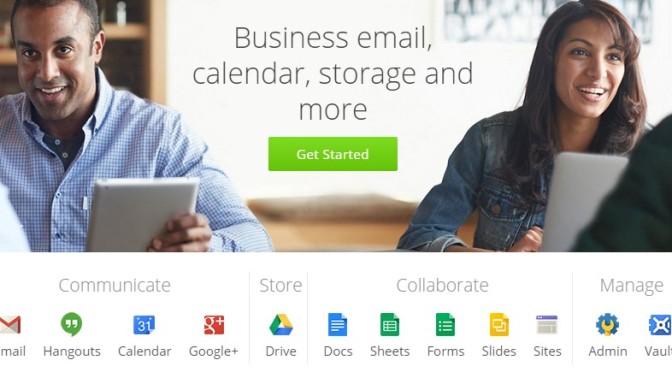 Store as many files in Google Drive as they need, as well as unlimited Gmail messages and Google Photos. Users no longer need to pick and choose only the most valuable content, saving them time and worry. (If you have 4 or fewer users in your organization, each user gets 1TB of storage.

Use Google Vault to retain, archive, search, and export your organization's email for your eDiscovery and compliance needs.
Use Vault to also search across all files in Drive and export files based on searches.
Gain additional insights with advanced Drive audit reporting, custom alerts, and APIs.
Get custom alerts on Drive activity, such as when documents are shared outside your domain.
Deploy, monitor, and manage security keys for your organization, and purchase them at a discounted rate.
Specify exactly which users can do the following, based on organizational units.
Download or use Google Drive for Mac/PC to sync Drive files with their computer.
Share Google Drive and Docs editors files outside your organization, either to anyone or only white listed external domains.
Enable offline access to Google Docs editors.
Open files in web apps installed from the Chrome Web Store.
Use Google Docs add-ons built by other developers.
To get started with Google Apps Unlimited
Already have G Suite? Upgrade to Google Apps Unlimited.
New to Google Apps ? Sign up and then Get started with Google Apps Unlimited.
Apps Includes
| Apps | Unlimited |
| --- | --- |
| Messaging: Gmail, Calendar, Contacts | Yes |
| Storage and collaboration: Drive, Docs, Hangouts | Yes |
| Web forums and shared inboxes: Groups for Business | Yes |
| Email and document search, email retention: Vault | Yes |
| Other Google services: Blogger, YouTube, and more | Yes |
Your Company Brand
| Your Company Brand | Unlimited |
| --- | --- |
| Your www address in Google Sites (www.yourcompany.com) | Yes |
| Gmail ads turned off | Yes |
| Addresses at multiple domains (you@company2.com) | Yes |
Ussage and Support
| Ussage and Support | Unlimited |
| --- | --- |
| Maximum number of users | Yes |
| Email, document, image storage per user | Yes |
| 99.9% uptime guarantee | |
| 24/7 phone support | Yes |
| Priority email support | Yes |
Security and Business Controls
| Security and Business Control | Unlimited |
| --- | --- |
| Password monitoring and strength control | Yes |
| 2-step verification | Yes |
| Enforced SSL connections | Yes |
| Mobile device management | Yes |
| Advanced Drive auditing and reports | Yes |
| Advanced Drive administrator controls | Yes |
---
---