Google Vault
Aug 22, 2019
Manage, retain, search and export your organization's email and on the record chats. G Suite Vault is an add on for G Suite.Vault is entirely web based, so there's no need to install or maintain any software. Vault is included with G Suite Unlimited or G Suite for Education.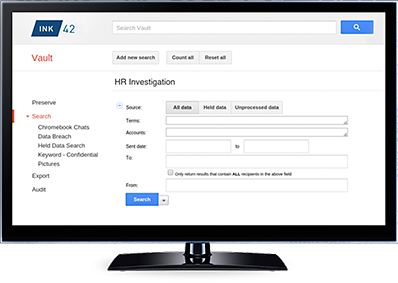 Vault provides the following eDiscovery services
Email and chat archiving Set retention rules to control how long email messages and history on chats are retained before they are removed from user mailboxes and deleted from Google systems.
Legal holds Place legal holds on users to preserve all their emails and on the record chats indefinitely in order to meet legal or other retention obligations. You can place legal holds on all content in a user's account, or target specific content based on dates and terms.
Drive file Search your domain's Google Drive accounts by user account, organizational unit, date, or keyword. Search results include Google file types as well as non-Google file types such as PDF, DOCX, and JPG.
Email and chat Search your domain's email, history-on Hangouts, and on the record Google Talk chats by user account, date, or keyword. Vault supports Boolean, Gmail-specific, and wildcard operator searches.
Export specific email, on the record chats, and files from Drive to standard formats for additional processing and review.
Audit reports Use Vault audit reports to learn about actions Vault users have taken during a specified period of time.
An archive for emails and chats
Control how long your email messages and on-the-record chats are retained. Specify policies for your entire domain or based on organizational units, date ranges, and specific terms.
Google-powered search to find content quickly
Find and retrieve valuable information, even from closed accounts. It's a smart way to gather what your legal team needs and prevent data loss from employee turnover.
Top questions about Vault
Electronic discovery, or eDiscovery, is the process of seeking and finding information in electronic format. It is done in response to legal matters and investigations.
If you delete a user, all data associated with the user's account will be removed from Google. As a best practice, Google recommends suspending user accounts instead of deleting them.
Once you start your free trial of G Suite, Google Vault can be purchased from within your Admin console. Alternatively, you can purchase Vault by contacting sales.
To access the G Suite Vault, you must have purchased the G Suite.
Purchased and activated G Suite Vault, simply login to the site and follow the steps indicated by the tool to import your corporate emails. Make sure that you are the G Suite account administrator for Work, for only the administrator has permission to perform the procedure.
---
---